>> Friday, August 23, 2013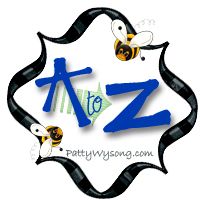 Patty Wysong's "A to Z" Meme:
This Week is all about "E"...
(Be sure and visit the other stops on the blog hop below.)
Okay, so I can't sing like one of the Pointer Sisters. And as far as looks, not even in the same stratosphere. But if I could or did, I'd be on the rooftop shoutin'…
I'M SO

E

XCITED….AND I JUST CAN'T HIDE IT….I'M ABOUT TO LOSE CONTROL AND I THINK I LIKE IT.
(Check it out on YouTube)
What am I all fired up about?
I'm going on vacation!
Stay with me and don't roll your eyes. It may not seem like a big deal, but I don't get out much. I've traveled some, visited friends and family, and even been to Mexico four times--on mission trips. (Not exactly luxury accommodations.)
My life (which I adore, by the way) is pretty calm, sedate, and basically dull. There's not a lot of extra cash in the stash and I'm a bit of a lone wolf when it comes to socializing.
But the last few years, I've been trying to up my game in regards to the enjoyment factor. This time, I hit the jackpot.
My niece and her husband booked a trip to Cozumel and invited anyone interested to come along. My immediate reaction was, "Nah, can't do it."
Didn't give it much of a second thought until one of my friends said, "What are you thinking? This is perfect."
And I realized she was right. The fact that there would be a group of people in the area, but we'd all be doing our own thing, made this absolutely ideal for me.
The trip is in January (Hmmm….sun and beaches in the middle of the winter. Can you say AWESOME?) and is all-inclusive. This means that for one price, airfare, hotel, and even food are paid in advance so there is no cash outlay unless you go on excursions or buy lots of trinkets. (I'm not the touristy type, but I do hear Cozumel is famous for amethyst, which happens to be my birthstone.)
I can't swim so snorkeling is probably out of the question, but I'm up for trying it in a life jacket. Will probably look pretty silly, but who cares?
Visions of me lying by on a beach, Kindle in hand, sipping some non- alcoholic, fruity drink occupies my thoughts often these days.
Actually yes: Delayed billing until next summer. *cha-ching* Only thing I need to do is get a new passport because mine expired a couple of months ago. And stay away from the stores because all their summer/beachy type stuff is on clearance right now. Woo hoo!
I've always said that my retirement venue in a few years would be a shack, Wifi, and a nine-hole golf course. This trip could be a trial-run. Who knows? Maybe I'll put a down payment on a hut, and secure my future.
Then I'll really be happy-dancing on the beach to my favorite Pointer Sister song.
Don't worry: I'll send pix.