>> Monday, August 12, 2013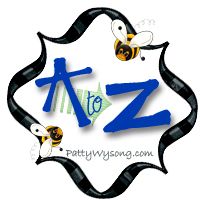 This week is the letter "D".
Be sure to hop on over to some other "D" posts through the linky tool below.
Mother's Day, 1995
My Grandma Friend was an awesome lady.
She spoiled me rotten. She loved ferociously. She was "that" Grandma.
One of my fondest memories is when my card shuffling skills were displayed during her pinochle games. Bragged me up like I was really special.
To her, I was.
She built her home many years ago overlooking the lake, and fully intended to live out her days there. At 92, she passed away, drinking in the scenery from her chair in that same house.
One of my favorite Grandma-isms was when she'd tout,"Gettin'old's not so bad, but it's
D
arned inconvenient."
And now I'm there.
Never one to be bothered by my age, the number is quite irrelevant. Most days I forget my half-century (plus) status and just chug through life.
Yet lately, it seems that the age train has started to roar down the tracks. It squeals into the next stop and I hear echoes of "All Aboard". Try as I might, I cannot ignore the faint cry in the distance.
A lot of it is mindset. I feel good, and don't act my age. Yet occasionally, reality pays a visit. My hands and knees ache just a little more and I have to face the fact that I'm probably in the early stages of arthritis.
My hearing has always been an issue and I've worn hearing aids since I was 25. This has nothing to do with age, but from a chronic condition in childhood. Yet I suffer the stigma of an "old people" thing.
I struggle with low blood sugar and have to eat often. It's annoying, but the alternative of raging headaches and temper tantrums are not worth it. The positive is that when I keep it in check, weight control is a bonus.
The latest thing? I've got sleep apnea. I've snored my whole life, but was still blown away when diagnosed in the severe category.
No wonder I was so tired!
So now I've been outfitted with this "cute" little machine with a mask that straps on my face at night. This ensures that my airway stays open and I don't stop breathing. And die. (Small comfort.) Note: Don't even consider asking for a pix—not gonna happen.
So here I am, at 52, a hearing impaired, hypoglycemic, that looks like an alien at bedtime.
I feel better every day as my machine and I become BFFs. I'm in the best shape of my life and continuing the quest to stay that way. Most important, I'm happy.
Yeah, Gram, you were right: Getting old is
D
arned inconvenient.
But really, it's not so bad.