>> Tuesday, January 17, 2012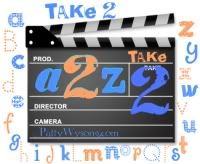 Hard to believe it's the middle of January already. We've leaped into a new year, made resolutions, and possibly already broken a few. It's a time of cleaning closets, re-organization, and a fresh outlook.

I've decided to jump-start a new blogging year by once again participating in a meme (rhymes with cream) sponsored by my pal, Patty Wysong.

For those not familiar, a meme is where bloggers write on a particular topic and all post on the same day.

Last year I was involved in Patty's "A2Z" meme. Every week, participants do a Tuesday post for the 'letter of the week,' eventually working all the way through the alphabet. (If you'd like to read other A2Z posts, just click on her link above.)

Since I've already missed week one, here's a catch-up combo:


Please accept my apologies for being absent without leave and ignoring my blog.
As many of you know, I've turned my manuscript (
Photo Finish)
over for professional editing. But that was after several weeks of intense first run-through pre-editing on my part. I say all this not as an excuse, but to beg for mercy and understanding.
My bad.
Thanks for hanging in there with me and I promise to do better.
"B" is for...(New) Beginnings
2012 is going to be an exciting year. Not only am I moving forward with my writing, but I'm also on a mission to become a little more adventurous.
I adore the low-key lifestyle I've created. That being said, too much sedate-ness can get dull. I tend to be a bit of a hermit (what writer isn't?) and don't want my solitary lifestyle to get out of hand: balance is crucial.
Before you roll your eyes, let me clarify: I'm not having a mid-life crisis. I just want to open myself up to the possibility of new things. Shake up the status quo. Experience life. Explore new worlds.
Go where no (wo)man has gone before....
First on the agenda?
Travel.
I'm heading to Colorado in a few weeks to see family, followed by a writing retreat/BFF fix in the quaint town of South Haven in June. Nebraska (somewhere I've never been before) is in the mix and can't forget the FaithWriters conference in August.
After that, who knows?
So here's to new beginnings..."Beam Me Up, Scotty!"