>> Tuesday, October 25, 2011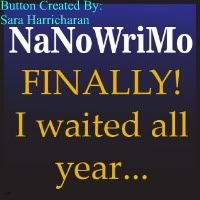 This year I'm going to (once again) attempt the
National Novel Writing Month
challenge (better known as NaNoWriMo). The idea is to write a 50,000-word novel during the month of November. No one reads your words and there are no prizes involved, yet I can't think of anything I'd rather do.
I've been asked why I would want to type my fingers into a coma for 30 days and have nothing to show for it except a ream of paper and a chintzy certificate to hang on the wall. The answer?
For the thrill of writing. And to prove I could do it.
One of the coolest things about NaNoWriMo (besides the name) is that the key to finishing is to NOT edit while writing—the only thing that matters is output. It's like an amusement park for writers: No tweaking or endless revisions--just type, type, type. Then type some more. Nothing but total, creative abandon. Building up without tearing down.
While writing is not allowed until November 1, most folks prepare an outline, create their characters, plot the plot, etc. The first year I participated (2009) I didn't even decide to do it until the day before. But I had had an idea kicking around for quite some time. Figured it was a golden opportunity.
The amazing thing is that it really wasn't all that hard. I snapped into competitive mode and forged ahead. It was an awesome learning experience. Since I hadn't done any pre-planning, I kind of felt around in the dark a lot, but that was all part of the fun. I created character sheets, chapter forms, and basically nudged my way through the story as I went along.
I also got a feel for what it would be like to write on a regular basis, day in and day out. Especially found out the importance of taking regular breaks. It's hard to stop when you're on a roll, but in the interest of stiff fingers, circulation, and bladder health, it is extremely important.
NaNo is a sacrifice of time, meals, and sleep. It's a huge commitment and takes just about every waking moment. I would work all day, shove down food, and head for the keyboard. The animals went hungry more than once, laundry piled, and there were a few bottles of Motrin lying about. My family soon learned that phone calls risked receiving an abrupt, "Not now—I'm about to kill someone off."

But it was worth it.
Over two billion words were written in 2009 and 50,012 of them were mine. The end result was my first official WIP (Writer-ese for 'Work in Progress') and Photo Finish was born.
In 2010, I actually started outlining and sketching a plot ahead of time. Pre-planning took a lot of the pressure off as I already had an idea of where the story was going. While the process was easier and I finished November with another "Winner" declaration, the manuscript didn't really fire me up that much. Again, I learned a ton and was glad that I made the effort, but my heart kept returning to the year before.
The story niggled at my brain, especially since I had not completed the story. I had an idea of how it might end, but after November 30, 2009, I had never looked at it again. The hard copy sat on a shelf in a notebook, lost and forgotten. I could practically hear the characters floundering through cyberspace. They demanded I finish their their and were quite indignant that I had abandoned them.
I decided to begin the arduous process of re-writing
Photo Finish
and it's been another learning experience. I slogged away, made some progress, and have had it edited in order to enter the first three chapters in the
FaithWriters "Page Turner"
contest.
In the meanwhile, November began to invade my brain. I knew I shouldn't consider a new project. Why would I do that when I have a perfectly good manuscript just dying to be finished?
So back to
Photo Finish
I go.
This year I hope to complete the manuscript. I'm excited to get started and my fingers are twitching in anticipation. Of course, I've had a bunch of things suddenly come up in November, but that will be part of the challenge.
Here's the synopsis of Photo Finish to wet your appetite--hope you enjoy it. Maybe someday you'll have an opportunity to attend my book signing and you can say, "I knew her when…"
Photo Finish
Frankie Taylor has issues.
And a plan.
But things go awry, and he finds himself locked into a chain of events that will forever change his life.
As opposed to ending it.
Frankie is a down-and-out man who has decided to commit suicide. Never one to do things halfway, he comes up with a spectacular way to end it all. And finally gain the notoriety that has always eluded him. But on the way to "do the deed," he observes a family on the train that reminds him of his own.
He muses about his own children, Melissa and Frank Jr. And the fact that a relationship with them has been almost nonexistent since the divorce. He always knew he was a lousy father. But knowing and fixing were two different things. It became easier to stay away entirely. And it hurt less.
As the family on the train goes their way, he is overcome with yearning for his kids, and wonders how they will deal with his demise. Yet it doesn't divert him from his plan.
Until he finds the digital camera left behind by the family.
Frankie arrives at his destination, but gets distracted by the camera. His grand scheme unravels and loses the window of opportunity. As well as his nerve. Doubts set in and he begins to wonder if 'someone' is trying to tell him something.
Could God actually be trying to stop him from committing suicide?
But God hadn't shown any interest in him in all the years since he had walked away from his faith. Why would he start now?
Frankie doesn't have any definitive answers; yet as God begins to gently guide him back into life, hope returns. He seeks help for his problems, adjusts to sobriety, and attempts to patch things up with his kids…who are dealing with their own issues.
Frankie also feels obligated to find the family of the lost camera. After all, if it hadn't been for it, things would have ended entirely different. It becomes imperative that he return the camera to its rightful owner and leads him on a journey he won't soon forget.
Meanwhile, we meet the Alexander family: Evan & Emily and their teens, Cara and Jamie. They are the typical all-American family…at least to casual observance.
But trouble is brewing in the Alexander home, especially with rebellious fifteen-year-old Cara. Things spiral downward quickly, and soon they are plunged into life and death crisis.
And right in the middle of it all, Frankie shows up.
A bizarre chain of events brings them all together so they can learn about love, family, forgiveness, and most of all, the Great Healer.
God never lets go as we run the race called "life". He shows us that even when we get tired and want to give up, he is right there beside us.
We win even when it doesn't feel like it.

But sometimes it's a Photo Finish.