>> Tuesday, October 18, 2011
A2Z4U&Me--The Letter "V
*Honk, Honk*
The bus just arrived in Michigan!
I'm hosting this week's stop on the blog tour of "Her Safari" by my pal, Lisa Mikitarian. Lattes are a brewin'...let the fun begin!
BONUS: Leave a comment and be entered into
a drawing for a $5 Starbucks card.
Lisa and I met at a
FaithWriters
conference. She wore a mischievous grin that was infectious, and even though we didn't get a chance to talk much, I suspected we could be friends, despite the fact that we lived nowhere near each other.
That's why there's social networking, right?
Over the last couple of years, we've gotten to know each a little, and I've found that my first impression was spot-on: she's a quick-witted, sassy gal and quite...vorlaut (German for flippant.)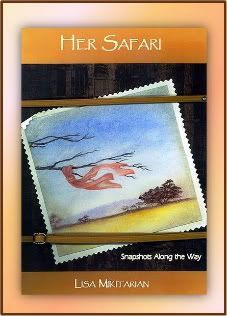 I also suspect she is my long-lost soul sista. We banter back and forth and enjoy virtual giggle-fests. She affectionately autographed my copy of her book: "To My Glib Buddy..." Gotta love her!
Lisa's an amazing writer and I'm proud of her determination to push through the challenges involved with getting published.
Order your copy of "Her Safari"
and proceeds will go to
Heart of God International Ministries. Just click on the HGIM button when you check out.
"Her Safari - Snapshots Along the Way"
It's interesting how our lives are made up of a plethora of seasons, snapshots, and sequences. Reflecting our personal experiences and sharing them with others strengthens our connections—our bonds of humanity. Her Safari is one such exchange of experiences, showcasing women of varying ages, races, and backgrounds.

When you explore the pages, you may find something of yourself written inside. You may be struggling with a mother-in-law who is finagling her way into your house through chocolate. You may have a sister who lives to "one up" you. You could be the wife who argues with her husband over Christmas décor. Perhaps you're the single girl who tries to make eyes at her doctor while under the influence of Percocet.

Wherever these women are on the journey, and however successful they are in navigating the conflict in their lives, it becomes clear that although they are flawed and broken, they are all genuinely striving to do their best—just like most of us.
(Check out "Her Safari" video)
I've never been comfortable talking about myself. Then the other day someone asked me about my name--my full name:
Lisa Renee Sorbo Walsh Felsch Heidenstecker Mikitarian.
Lisa and Dorian Gray


How's that for offbeat? So here's my personal bio--via the names:
Lisa: First name given to me by Mom. It was in a book she'd been reading.
Sorbo: My last name--listed on my birth certificate. But I can't say I know who my father is. Perhaps one day. After I was born (in California), Mom took me to live with Oma Heidenstecker in Germany. I refer to these as, "The Stable Years." Thank God for Grandmothers:).
Walsh: Last name of my stepfather--Mom married him when I was five. That's when Oma brought me back to the States. Those were the grade-school and not-so-stable years.
Felsch: The last name of the family who graciously became my guardians when life got too complicated at home. Those were the Junior High and High School years. Those were kind of rickety years, too.
Heidenstecker: At 18, I legally changed my name to my Grandmother's, though I hadn't seen her in a decade. I joined the Army, attended the Defense Language Institute where I re-learned German. I was stationed in Germany for two tours where I reunited with Oma--yay! Slightly wild and joyful years. Learned to dance in the discoteca.
Mikitarian: The last name of the man I have loved (and danced with) for 24 years: Sam Mikitarian Jr. A blessing before I knew what a blessing was. Three children: Madeline, Spencer, and Katalina. A dog: Dorian Gray.
Now here's where the middle name fits in. It means born new. And that's exactly what happened to me when I (along with Sam and Maddie and Spencer and Katalina) accepted the grace and forgiveness of Jesus Christ. It's here (about 18 years ago), that I began understanding that God created us in community for a reason--to love and help one another while on this earthly journey. I've felt strongly about this aspect of life ever since.
Well, there it is. Me in a Nut-shell.
Lisa the racing babe and Sam
Thanks for stopping by!
Don't forget to leave a comment
to be entered into the Starbucks drawing